One of the most critical aspects of your home is the bathroom. The bathroom has always been a place where you get to spend some quality time with yourself and indulge in some much-needed self-care. As such, it's important that you make sure to always keep your bathroom looking good, especially when it comes to flooring and tiles.
In this article we're going to take a look at 10 latest bathroom tiles designs for 2022 that will make sure you have an uplift design idea for your own private sanctuary space.
#1: Salvaged Wood Tiles – You can never go wrong with something classic like salvaged wood tiles! This flavor of tiling is going to add an instant rustic feel to any space, and it's also a perfect match for the rest of the decor.
#2: Wall Tile with Rose Pattern – You can always go for a versatile style that can be used in so many different ways and contexts. That's exactly what you get with this tile pattern that features a rose pattern! It's not just pretty to look at but it's also going to help finish off your design scheme very well!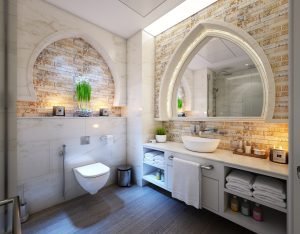 #3: Glass Mosaic Tile – Glass tiles are great because they're available in so many different color options, meaning you can mix and match to your heart's content. In this case, we're seeing a brilliant combination of green and pink, but you can also go for a more subtle color combination like grey and pink.
#4: Customized Tile Design – This particular design has one set of tiles that have been customized in order to create a particular pattern. While the overall effect is kind of subtle, if you look closely you'll notice how it adds a bit of interest without being overpowering.
#5: Natural Stone Tiles – Natural stone tiles are always going to be one of the most gender neutral flooring options around. They'll adapt well to any space that you want to use them in, as they've proven themselves to be very durable over the years.
#6: Tile Design with Wood Accents – A great way to play around with texture is by going for tiles that have wooden accents. The contrast between the hard tile and the softer wooden accents will help liven up an otherwise dull looking bathroom.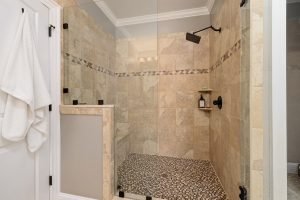 #7: Tile Design with Marble Accents – This is another case where you can see how including marble accents into your tiling design can really finish off well! It's almost like a piece of art, but in this case they're using it as flooring. We think that's incredibly clever.
#8: Glass and Stone Tiles – If you love the look of marble but can't afford or don't want to spend too much money on it, you can always create this faux marble look by adding glass tiles to the mix. They'll give you the same aesthetic appeal, and they'll also be excellent for giving off a shimmering effect.
#9: Mosaic Floor Tiles – When it comes to flooring, mosaic tiles are always one of the best options you can go for. They're available in so many different colors and patterns, meaning you can create a very unique design without it being too overpowering.
#10: Small Glass Tiles – It's important to remember that the size of your space is going to be one of the main deciding factors when it comes to choosing tiles. For example, if you have a very small bathroom you're always going to want to make sure that your flooring fits perfectly into your space.
If you're looking to create the perfect home oasis, it's important to always choose these points so that your bathroom is always going to look great. Whether you want a sleek modern design or some more nature-inspired aesthetics, now you have 10 ideas to add to your list.
Realize the importance of bathroom flooring and tiles from this article and make sure you choose according to your choice.