Picking a paint color or wallpaper for your bedroom walls can be daunting. It can be hard to decide what will look best in the space and how to make the most of your bedroom's layout. But adding photos to your bedroom wall can add personality and style to make your room stand out. This guide will give tips on picking the right photos for your wall and show you some great ideas for displaying them. 
Do you want to give your bedroom a new look? You can easily do this by adding some photos to your bedroom wall. This guide will show you how to design your bedroom wall with photos. We will also provide tips on choosing the right photos for your wall. So, let's get started!
Tips for designing your bedroom wall with photos
Do you want to add some personality to your bedroom walls? If so, hanging photos is a great way to do it! But how do you go about designing your wall with photos? So whether you're looking to add a little personality or want a new look for your room, read on for some inspiration!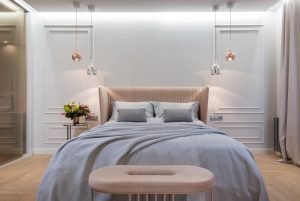 Here are some tips:
Decide on a theme.
Do you want your wall to tell a story? Or do you want it to be a collection of your favorite things? Once you have a theme in mind, choosing which photos to hang will be easier.
Choose the right photos.
Not all photos are created equal! When choosing which ones to hang, make sure they are high quality and complement each other. A mismatched collection of photos will look cluttered and unappealing.
Get creative with the layout.
Don't just randomly hang photos on the wall – take some time to plan out the perfect layout. Try different arrangements until you find one that you love.
Use frames to add interest.
Frames can help elevate a photo wall from looking mundane to marvelous! Choose frames that complement the style of your room and the photos you are hanging.
Add some finishing touches.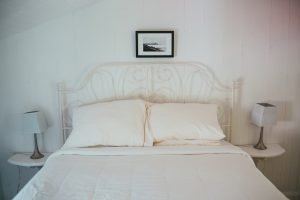 Once all your photos are hung, step back and look at the overall effect. Is there anything else you can do to make it look even better? Perhaps add some greenery or fairy lights? Just a few small touches can make all the difference.
Designing your bedroom wall with photos is a great way to add personality and style to your space. Follow these tips, and you'll be sure to create a wall you love!
Conclusion   
Now that you know the basics of bedroom wall photo design, it's time to get creative! Mix and match different photo types and sizes to see what looks best in your room. Play around with framing and filters until you create a look that makes you feel calm, rested, and inspired when you walk into your bedroom daily. With just a little effort, you can transform your bedroom from a dull space into an oasis of tranquility that will help you relax and recharge after a long day. What are you waiting for? Start designing today!
FAQs
Where should I put pictures in my bedroom?
Think about the placement of your bed. Where is the best spot for it the windows and doors in your room? This will give you a good starting point for deciding where to hang pictures. If you have a headboard, that's an excellent spot to hang at least one picture. But don't feel you have to stick to convention – get creative!
How do I make a picture wall in my room?
First, decide on the orientation of your picture wall. Decide whether you want your pictures to be displayed vertically or horizontally. Once you have decided on the orientation, choose a location for your picture wall. Make sure that the location you choose can accommodate the orientation of your picture wall. Next, gather all the frames and pictures you want to display. Arrange the shelves and pictures on the floor in front of the chosen location for your picture wall. Once you are happy with the arrangement, begin attaching the frames to the wall using nails or picture Hanging Strips. Finally, step back and enjoy your new picture wall!