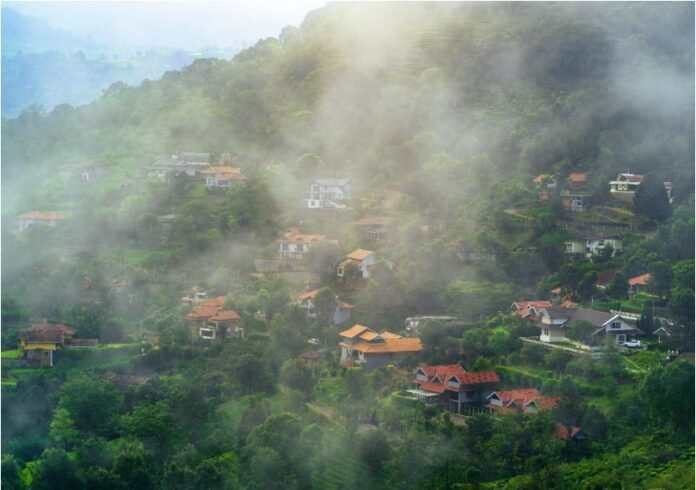 Located in the Nilgiri district of Tamil Nadu, Kotagiri is a small yet picturesque hill station renowned for its serene beauty and lush green tea estates. If you want to escape the hustle and bustle of city life and experience the tranquility of nature, then Kotagiri should be on your travel bucket list. The hill station offers a pleasant climate all year round, making it a perfect destination for tourists. Kotagiri boasts of several scenic spots such as Catherine Waterfalls, Elk Falls, and Rangaswamy Peak that are a treat to the eyes of nature lovers. The place also offers plenty of opportunities for trekkers and adventure enthusiasts. So, if you want to explore the untouched beauty of the Nilgiris, then browse through our Kotagiri Travel Guide and plan your next trip accordingly.
Kotagiri Travel Guide
1. Kodanad Viewpoint #Kotagiri Travel Guide
Located in the charming hill station of Kotagiri, the Kodanad Viewpoint offers visitors a breathtaking vista of the surrounding valleys. Situated at an altitude of 6,000 feet, this viewpoint is one of the most popular tourist destinations in the area, and with good reason. As you gaze out over the verdant hills and shimmering waterfalls in the distance, it's easy to understand why so many travelers have been captivated by the natural beauty of Kotagiri. If you're planning a trip to the area, be sure to add the Kodanad Viewpoint to your Kotagiri Travel Guide. Whether you're an avid photographer or simply seeking a peaceful retreat in the mountains, this viewpoint is sure to impress.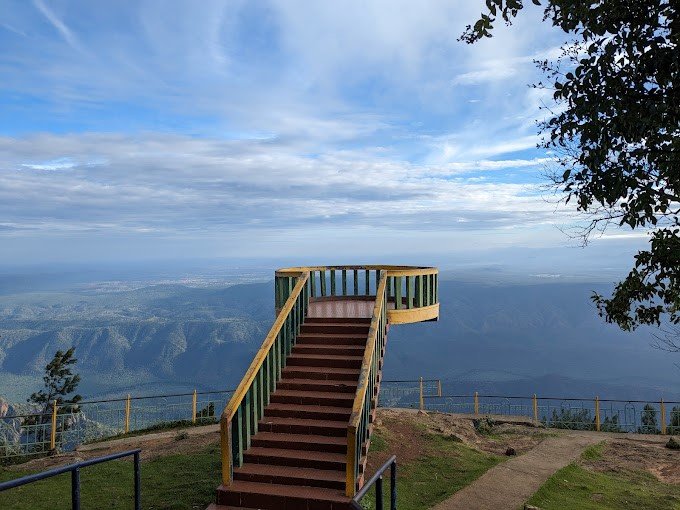 2. Catherine Falls
Catherine Falls is a must-visit destination in Kotagiri, a charming hill station located in the Nilgiri district of Tamil Nadu. This breathtaking waterfall cascades from a height of 250 feet amidst lush greenery and offers a stunning view to visitors. Named after the wife of the coffee planter who discovered it, Catherine Falls is easily accessible by a short trek from the main road. The journey to the falls is lined with tea estates and the scent of fresh coffee, making for a pleasant and refreshing experience. For those looking for adventure, there are numerous trekking trails that lead to the falls. A visit to Catherine Falls is an essential part of any Kotagiri Travel Guide, as it is a perfect spot for nature lovers and adventure enthusiasts alike.
3. Elk Hill and Mukurti Peak
Kotagiri is a small town in the southeastern Indian state of Tamil Nadu, located in the Nilgiri Hills. Nature lovers and adventure seekers are in for a treat at Elk Hill and Mukurti Peak. These two places offer breathtaking views of the surrounding hills and valleys, and it's an ideal spot for trekking and hiking enthusiasts. Elk Hill stands tall at 8661 feet and is a popular spot to witness the sunrise or sunset. Mukurti Peak is also a coveted spot with an altitude of 8448 feet. Taking a trek to the top of Mukurti Peak is a perfect way to explore the natural beauty and experience the adrenaline rush. As a part of the Kotagiri Travel Guide, we highly recommend adding these two stunning locations to your itinerary to experience the best the town has to offer.
4. Rangaswamy Peak and Pillar
The most admired tourist destinations in Kotagiri is the Rangaswamy Peak and Pillar, an area of immense natural beauty that's waiting to be explored. Standing tall at an altitude of 1780 meters, the Rangaswamy Peak and Pillar offer stunning panoramic views of the enchanting Nilgiri Hills that are sure to take your breath away. The lush greenery, picture-perfect vistas, and tranquil surroundings make it a great spot for anyone looking for a peaceful escape from their everyday routine. From seasoned hikers to nature lovers, everyone is sure to appreciate the charm of Rangaswamy Peak and Pillar. Don't miss the opportunity to visit this breathtaking location during your stay in Kotagiri.
5. Longwood Shola
Have you ever heard of the Longwood Shola? Nestled in the enchanting hills of Kotagiri, this reserved forest is truly a hidden gem waiting to be explored. The Longwood Shola is an untouched paradise boasting of a rich biodiversity with over 50 species of birds and a variety of flora and fauna. Experienced trekkers and nature enthusiasts will find Longwood Shola to be a challenging yet unique trekking experience with its steep terrain and diverse vegetation. When visiting Kotagiri, make sure to add the Longwood Shola in your itinerary for a breathtaking adventure in nature. The Kotagiri Travel Guide offers insider's tips on how to make the most out of your visit.
Recommended Activities in Kotagiri
Nestled amid the Nilgiri hills of Tamil Nadu lies the charming town of Kotagiri, offering an idyllic retreat for nature lovers and adventurers alike. Whether you want to soak in the breathtaking views of the hills, indulge in thrilling outdoor activities, or simply unwind amidst the serene surroundings, Kotagiri offers a plethora of options to cater to all of your interests. From trekking to exploring tea plantations to visiting waterfalls and botanical gardens, there's no shortage of recommended activities to add to your itinerary during your stay in Kotagiri. As your go-to Kotagiri travel guide, we've compiled a list of the best things to see and do in this picturesque town to help you make the most of your trip.
Shopping Guide for Kotagiri Souvenirs
While on your trip to the Nilgiri Hills in India, make sure to visit the charming town of Kotagiri. Known for its serene atmosphere and stunning views, Kotagiri is also a great place to pick up some unique souvenirs to take home. From handcrafted pottery to traditional fabrics and delicious tea blends, make sure to check out the local markets and shops for the best finds. Keep in mind that bargaining is a common practice in India, so don't be afraid to negotiate prices. For a full guide on what to do and see in Kotagiri, be sure to check out the Kotagiri Travel Guide. Happy shopping!
Conclusion
Kotagiri and the Nilgiris are a worthwhile destination for any travel enthusiast. This guide has provided insight into the best places to visit, things to do, and shopping spots in this unique location. It is up to you to decide whether Kotagiri is right for your next adventure. If it is, start packing – you have a lot to explore! Don't forget some traditional souvenirs from your travels – which will be sure to remind you of your time in the half-forgotten paradise that is Kotagiri with its stunning landscapes, captivating culture, and warm climate. Now get out there, take some pictures, enjoy the peace and quiet of nature's solitude and embrace all of the beauty this storied region hold – there's nothing like it on Earth!
READ NEXT: Top Places to Visit in Pondicherry in 2 Days